Tumour Like Conditions
Features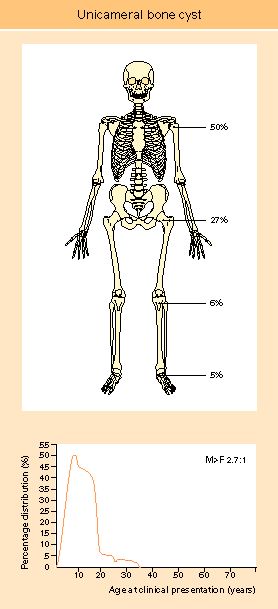 Benign lesion which occurs during growth
20% of benign bone lesions
Age 5-15 years
Not found in adults
Sex male to female is 3:1
The most common location is the proximal humerus (67%) followed by the proximal femur (15%)
UBC's may be found in unusual sites (e.g. calcaneum, pelvis) in patients >17 years
Cysts may be Active or Latent: Active cysts are located near the growth plate, but they move further away as the child grows and become inactive (latent)
Presentation
Asymptomatic
Usually presents as a pathological fracture (~ 65%)
Aetiology
Unknown
Venous obstruction leading to a transudate of fluid
Fluid contains high levels of IL-1 & IL-6, which stimulate osteoclasts
Differential diagnosis
Depending on the location,
Radiographic features
Well defined, central osteolytic area with a thin sclerotic margin
Metaphyseal in young - moves towards diaphysis with growth
It fills and slightly expands the juxta epiphyseal metaphysis
CT not helpful unless the UBC is in the pelvis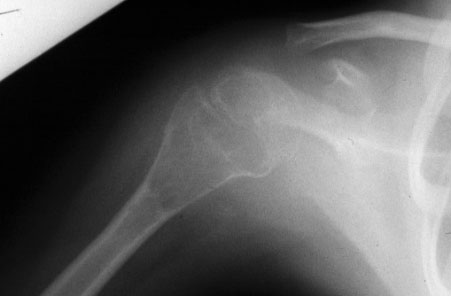 Histologically UBC's are thin walled cavities filled with blood tinged fluid.
The lining cells are cuboidal, but are not an endothelium
There is endosteal osteoclastic activity and periosteal new bone formation
This is a preview of the site content. To view the full text for this site, you need to log in.
If you are having problems logging in, please refer to the login help page.