Salford Orthopaedic Series Shoulder Update 2010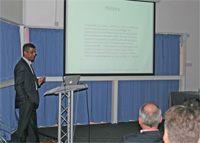 The University of Salford held the first of the Salford Orthopaedic Series (SOS) short courses on 19 May, at The Lowry, Salford Quays.
Experts from around the country gathered to listen and engage in discussion in the most up to date advances in treatment of the shoulder. The Shoulder Update was designed to provide an expert forum accessible for GPs trainee surgeons and therapists to listen and engage with Consultant surgeons from Salford's MSc Trauma and Orthopaedics programme and other key experts.
Chaired by Professor Len Funk, the day consisted of lectures and discussions around best practice in assessment and treatment with an excellent overview of new advances in surgery and the latest research in orthobiologics. Visiting lecturer and Specialist Physiotherapist Tanja Bell from South Africa presented on shoulder dysfunction and biomechanics. Having been involved in national sport for many years her main interests lie in correction of biomechanical dysfunction and improvement in sports performance in the adolescent.
The day was a great success with over 75 delegates attending, delegate Janet Suckley, Consultant Physiotherapist for Manchester PCT, described the event as, "A rare opportunity to have so many experts in this field together to engage in discussion at the cutting-edge of recent advances in practice and research around the painful shoulder."
The day was enjoyed thoroughly by speakers and delegates alike, speaker Nick Philips, Consultant Orthopaedic Surgeon, said, "It is always enjoyable putting these presentations together and good to see so many people here both consultants and delegates to take part in discussions."